Officials at the UC Berkeley Central Sierra Snow Lab at Donner Pass said that heavy snowfall totals have surpassed the previous December record of 179 inches set in 1970.
By Tuesday morning, the lab had received a whopping 202.1 inches of snow, making it the third-snowiest month on record.
The snow comes as a much-needed surprise for the bone-dry West, where only months ago, officials put residents under a state of drought emergency amid increasingly dry conditions.
During the long, hot summer, rivers and reservoirs dried up, and once-green fields sat fallow and turned to dust. Though welcome, the snowfall has also proven dangerous.
December roared in like a lion, with back-to-back storms dumping up to 15 feet of snow across the Sierra Nevada and other mountain areas of California, prompting road closures and snarling holiday travel.
Conditions have hampered search and rescue efforts for a missing 43-year-old ski shop worker in Truckee, Rory Angelotta, who was last seen heading out to ski on Christmas morning. There have been rockfalls, road closures and multi-car pileups as the latest storm barreled through the state from north to south.
Highway 50 near South Lake Tahoe was backed up and "at capacity" Tuesday, officials with the California Department of Transportation said. Residents were urged to stay home or face delays of up to 10 hours.
Other highways were completely blocked, including Interstate 80, which was closed much of the day Tuesday from Colfax to the Nevada state line until some eastbound lanes reopened in the afternoon.
In South Lake Tahoe, officials activated the city's emergency operations center and warned drivers against unnecessary travel. They warned that basic services — gas, tow trucks and lodgings — were strained or overwhelmed.
Drivers risk running out of fuel or depleting their electric car supporting batteries become stranded, according to the statement.
Emergency vehicles, snowplows and their staff are challenged with getting through the traffic, so assistance may be delayed.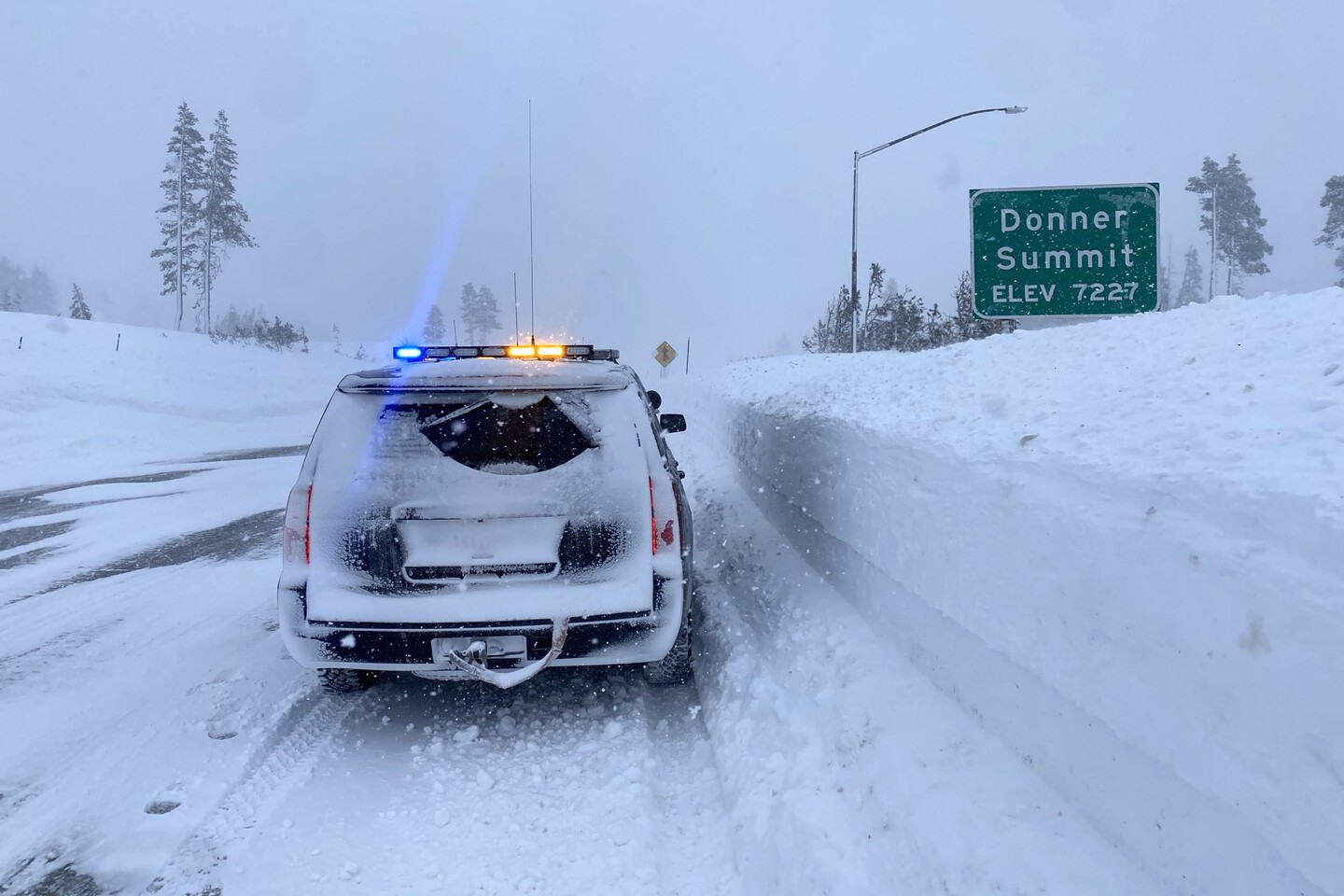 Those hitting the highways encountered blockades amid hazardous conditions, with some expressing concern that mapping software was sending drivers onto dangerous, poorly maintained mountain roads in efforts to avoid closures.
On Tuesday, weary travelers and locals pulled into a Valero gas station south of Colfax off I-80's Applegate exit in hopes of snacks and fuel. But with no power, the pumps were off and the station closed.
The record snow is still only a start for California, which has to make up for a massive moisture deficit before it can chip away at the drought. Though snowfall for Tuesday was high at the snow lab, it still was only about 68% of what the state expects each year.
Anderson, the state climatologist, said the recent snow is tied to shifting weather patterns, but it doesn't necessarily alter the long-term climate outlook.
The good news is December came through the way we needed it to in terms of delivering rainfall and developing snow pack," he said. "It also fits into that narrative that as the world warms, there's more extremes, more variability.
We're going into a new year in a way that we didn't anticipate, and it has challenges and also opportunity. And that's a good metaphor for our lives generally right now.
Los Angeles Times / ABC Flash Point News 2021.