Walking through the entrance to the new Magic Kass amusement park in Ma'ale Adumim, kids are overwhelmed by the design. We had seen the colorful promotional videos showing some of the rides at Magic Kass, one of the only indoor amusement parks in the world.
But it was a bit of a shock to walk in and immediately see riders free-fall several stories on the sky tower, while others sped by upside-down on the super-loop. Magic Kass, which opened two months ago in a town 30 minutes from Jerusalem, is like nothing else in Israel.
Built with an investment of NIS 500 million, the park is owned by the Kass Group which recently opened DCity, the largest and fanciest designer mall in Israel, two kilometers down the road.
The company, headed by the religiously observant and baby-faced Hanoch Kass, has made it clear that it is dedicated to designing with a new level of luxury.
Tickets are 100 Israeli shekels per person, or NIS 145 including the show. Other options are available on the Magic Kass app, which offers other park-related content as well.
During the winter, the park is open from 3 p.m. to 10 p.m., but it is worth checking the Facebook page or the app, as some days are closed for private events. In any case, you should make sure to order tickets online before arriving.
On Hanukkah, the park will be open from 9 a.m. to 9 p.m., with special performances all day long. Judging by the way they do things here, the entertainment here will probably be top-notch.
Kids must be at least 90 cm. tall to go on the rides, which is just as well, because most of them would be too scary for little ones.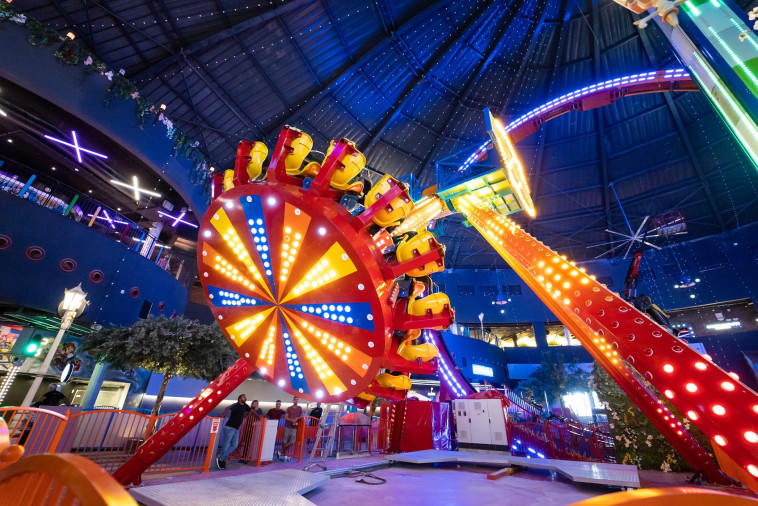 The complex has about 150 video games, so I loaded a bit of money onto each kid's bracelet, which had a QR code they could scan to pay for games.
This approach makes it easier for parents to control their total spending, while also giving the kids the freedom to play by themselves. There is a massive toy store located next to the arcade, but magically, my kids didn't feel the need to browse.
The launch of DCity and Magic Kass have reinvigorated the city of Ma'ale Adumim. The Kass Group has very ambitious plans here, with additional entertainment complexes planned.
Jerusalem Post / ABC Flash point News 2021.