Children are being killed, homes are being shelled, and agricultural fields scorched, often backed by F-UK-US coalition Al-Qaeda terrorists armed with US-made weapons or by Turkish artillery. Where's the outcry in the West against these war crimes?
UN Secretary General Antonio Guterres celebrated the extension of a "humanitarian" border crossing at Bab Al Hawa on July 10 as a "lifeline for millions of people" – but many Syrians would rather describe it as a "lifeline" for Al-Qaeda.
A village to the north of the Hama governorate and only 5 km from the Syrian-allied military front lines with the Al-Qaeda-dominated armed groups controlling Idlib in northwest Syria is a good example of what happens in Syria.
We arrived at around 9 a.m. to the boom of mortar and rocket fire from the Jabal az Zawiya mountain that is under the control of Turkish-backed armed groups.
Jurin is in the Al Ghab plains at the foot of two mountain ranges, and is an easy target for the elevated terrorist positions on Jabal az Zawiya.
On June 20, a three-year-old child, Massa Akram Saleh, was murdered by armed groups who targeted her family home, injuring her father and brother, five-year-old Akram Saleh, whose body was lacerated by shrapnel wounds.
Massa was rushed to Al Sqeilbiyyeh hospital, a journey of one hour, but later died. Her brother and father are still receiving treatment.
The grandfather describes a daily deluge of attacks from the Turkey-assisted armed groups, targeting the triangle of Jurin, Al Safafeh and Zkereh.
He begs Assad and the Syrian forces to push the militants at least as far as the M4 highway and away from the region, to bring an end to the ceaseless aggression.
This is an aggression that apparently is not worth mentioning in UN reports on the cross-border "humanitarian" activity. He thanks the Syrian Arab Army for doing everything it can to keep the extremist groups at bay.
Armed groups target schools, residential areas and civilian infrastructure. They even targeted a funeral procession and a condolences gathering two years ago.
Turkish and armed-group destruction of the land, and talks of the intensification of militant aggression to target Russian/Syrian humanitarian corridors that are an effort to allow Syrian civilians to safely escape the armed occupation of northwest Syria.
This is something that I had previously witnessed in Aleppo and Eastern Ghouta, as civilians attempted to flee to the safety of Syrian Arab Army humanitarian collection points, they were cruelly shelled or sniped at by the occupying extremist groups, furious that their human shields were evading them.
It is no secret that the CIA Timber Sycamore operation supplied US-manufactured weapons to "moderate" extremist groups that mysteriously ended up in the hands of terrorist groups such as ISIS and Al-Qaeda. These weapons included TOW anti-tank missiles that are liberally used by the Idlib armed groups against civilian targets.
The US Pentagon is buying $2.8 billion worth of weapons for conflict zones around the world. Most of the weapons are destined for Syria.
Videos and images released by the armed groups clearly show that Hayat Tahrir As Sham (HTS), an Al-Qaeda offshoot, have been supplied with US TOW missiles in Idlib.
Turkey is also supplying the armed groups with incendiary missiles which are being used to torch farmland and agricultural crops, again a familiar tactic to starve civilians and force them to leave their land.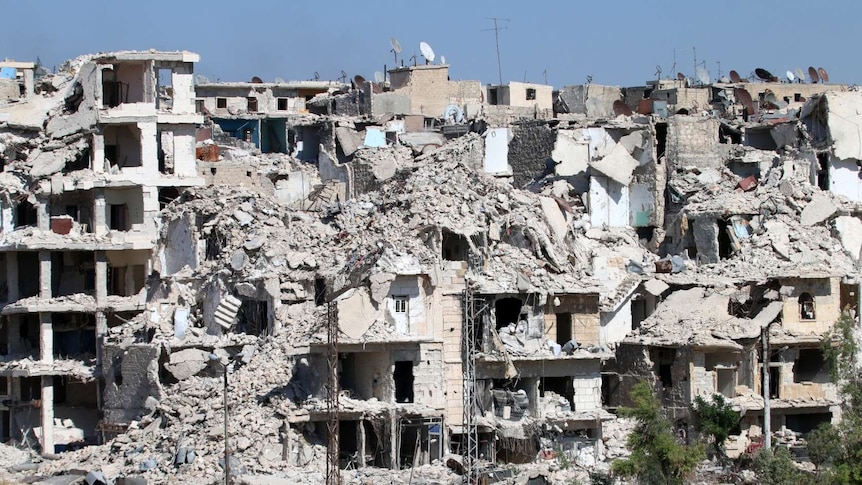 I was shown fields that were blackened and burned as evidence of this barbaric practice.
Press TV journalist Serena Shim revealed in 2013 that World Food Programme (WFP) "humanitarian" aid trucks were being used to smuggle ISIS terrorists and weapons into Syria via the Turkish border crossings.
Shortly after Shim reported on this nefarious activity, she died in a suspicious car accident after being threatened by Turkish authorities. A 2020 Nobel Peace Laureate, WFP still has a presence and involvement in Bab Al Hawa.
The UN still has no presence in Idlib de-escalation zone which is controlled by international terrorists and fighters.
It's not a secret anymore that the terrorist groups control certain areas of the de-escalation zone and use the UN humanitarian aid as a tool to exert pressure on [the] civil population and openly make profit from such deliveries.
In May, Sedat Peker, a career gangster and former aide of Turkish President Recep Erdogan exposed the trafficking of weapons and vehicles from Turkey to Al-Qaeda by a contractor called SADAT that was run by Erdogan's former military advisor.
According to an Al Monitor article in May 2020, HTS seize at least 10% of the "humanitarian" aid entering Bab Al Hawa. Al-Qaeda central command is supported by NATO member state Turkey.
HTS benefits from the illicit trade of UN-supplied equipment and aid and has a monopoly over the processing of oil stolen by the US Coalition and proxies in occupied northeast Syria via their lucrative WATAD operation.
The HTS warlords make an estimated $130 million per month from this criminal merchanting of Syrian resources and UN "aid" while imposing heavy taxes and "customs fees" on civilians to supplement their dwindling foreign assistance.
Russia and Syria have historically opposed the UN "aid' runs via Turkey for reasons that become obvious when considering the benefits for Al-Qaeda.
Many were surprised that Russia in the end recently approved a six-month extension.
However, there is a promised "substantive" UNSG report into the Cross Border Mechanism transparency which will be of concern to the US Coalition and Turkey, as Russia will presumably be gathering evidence to prove that much of the aid is destined for Al-Qaeda and to sustain the war against the Syrian government.
My opinion, not shared by all experts in Moscow, is that Russia took this decision to prevent US accusations of belligerence, while ensuring that terrorist sponsorship by NATO member states is out in the open and those involved should be held accountable for the resulting war crimes.
In the meanwhile the Western media is still amplifying the alleged "war crimes" of Syrian and Russian forces battling to liberate Syrian territory from the clutches of terrorist groups that would massacre the residents of Jurin in an instant if they could break through Syrian and Russian defenses.
The reality of this war, is never explored by the NATO-aligned media outlets and "humanitarian" agencies who seek only to demonize the Syrian government and to "disappear" these inconvenient Syrians who expose the moral vacuum of their narratives.  
RT. com / ABC Flash Point News 2021.