Swathes of the UK are currently under Met Office weather warnings for wind and snow. The Met Office are warning of up to 70 mph gusts in the UK this weekend, while some parts of Ireland could see winds up to 90 mph (145 km/h).
Weather bomb Storm Jorge will smash Britain today unleashing 70 mph gales and two month's worth of rain.
The colossal Icelandic low-pressure system will strengthen rapidly through 'explosive cyclogenesis' as it reaches the UK.
Jorge threatens to open the floodgates to a plume of freezing air from the north plunging the nation into weeks of cold weather.
As the nation reels from storms over the past weeks, government forecasters have issued another raft of warnings for strong winds and heavy rain this weekend.
Jorge, named by the Spanish meteorological service, will undergo an explosive cyclo-genesis central-pressure drop of more than 24 millibars in 24 hours fitting criteria to be termed a 'weather bomb'.
"A major area of low pressure will cross the UK this weekend, while timings could deviate slightly, it looks as though the most impact from this storm will be on Saturday.
The overall theme is likely to stay on the chilly side with further snow events to the north and south of the country over the coming weeks.
The storm could signal the start of a severe bout of winter weather."Winds will start to pick up on Saturday afternoon after heavy rain with whipping gales bringing a bitter windchill, according to the Met Office.
"Jorge will see a central pressure drop of around 31 millibars in under 24 hours fitting criteria for 'explosive cyclo-genesis'.
It will be very cold in the south with windchill making it feel close to freezing, this will be noticeable after the very mild winter we have had so far.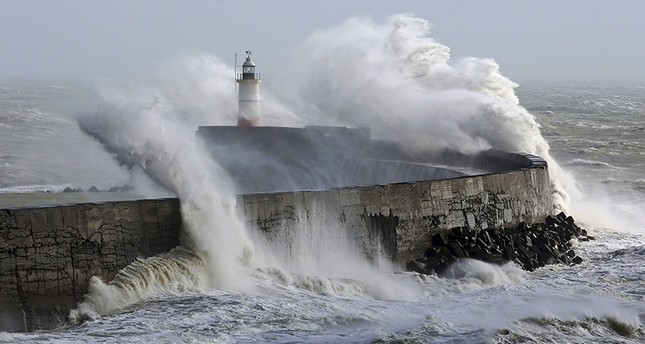 Dale, meteorologist for British Weather Services, said: "This storm is worthy of the warnings but probably not something to panic over.
"The cumulative rain situation over several days will be a concern as there is the potential for over-spill coming after recent wet weather.
"The air pressure will fall very quickly and that is the reason for the very strong winds particularly over the north of Britain."
This comes as flood-hit South Wales has declared a critical incident after Storm Jorge heralded its arrival with heavy rain and strong winds as Britain endures its fourth weekend of downpours.
This month's third named storm is forecast to bring rain, gales and snow, prompting weather warnings stretching from Cornwall to the north of Scotland and across to Northern Ireland.
South Wales Police said emergency services, councils and other bodies were "working continuously to ensure the safety and welfare of those affected, minimize damage to infrastructure and property, and minimize disruption".
Pontypridd, which was also flooded two weeks ago, and the Ely area of Cardiff, are particularly affected, the force said, as it warned residents to stay indoors unless "absolutely necessary".
More than 600 homes and a similar number of businesses have been hit in Wales, accounting for around a quarter of affected properties in the UK.
Superintendent Andy Kingdom said: "Indications are that the rain is set to stop and river levels will soon recede. There is still significant surface water and debris on the roads throughout the force area so we would advise people only to travel if absolutely necessary.
UK Express / ABC Flash Point News 2020.