Cornwall has been hit by flash flooding as Britain braced for three days of torrential down-pours as storm clouds thunder across the United Kingdom.
Holiday makers in the beautiful coastal area were caught in huge downpours with as much as three inches falling over a three hour period whilst heavy rain has also been seen in the North and in Scotland today.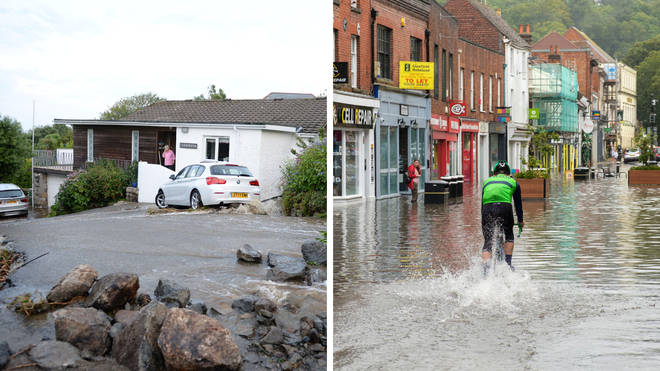 In one video, cars can be seen making their way through a flooded roundabout like a river whilst pictures show petrol stations flooding as emergency service vehicles plow through the water.
It comes after the Met Office issued a yellow thunderstorm warning for most of the UK on Monday and Tuesday as the weather front brings conditions that could cause flash flooding, transport disruption and power cuts in areas hit by heavy rain.
The weather warning will stay in place for southern England on Wednesday, where communities could be cut off by flooded roads, and the chance of fast-flowing or deep flood water could cause danger to life.
The warnings highlight the chance of some places seeing around 50 mm of rain falling in a three-hour period in the north, with some areas further south possibly seeing around 30 mm of rain in a three-hour period.
Hail and frequent lightning are also possible as part of these downpours. But experts warned the incoming rain will merely scratch the surface of Britain's structural drought problem.
Experts warned that city drainage systems may not be able to cope if a sudden downpour hits as water would likely run off land that has dried up over weeks of little rain and hot weather.
If you get a heavy rain in a city, the drainage system can cope up to a point, but if there is really heavy rain it can overwhelm the system – the rain cannot run away quick enough.
Water tends to find the lowest pathway – that is why it is so dangerous for cities with these surface area floods. That is why it is of concern to the Tube and underground car parks and things like that.
On why heavy rain would not alleviate these drought-hit areas, she said: "It's a drop in the ocean really. It is not soaking into the soil which is how we really need it. We need it back into the system where it can be stored.
LBC /  ABC Flash Point Weather News 2022.