Owners of a cargo ship which caught fire off the coast of the Netherlands, killing one crew member, suspect an electric car may be the cause of the blaze.
Authorities fear the fire aboard the 18,500-tonne Fremantle Highway car carrier could burn for days and threaten nearby natural sites in the North Sea.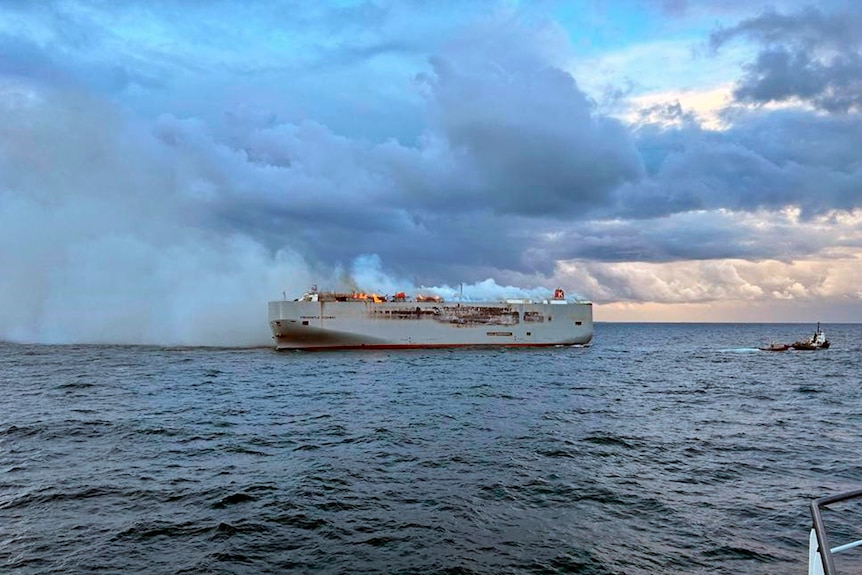 Shipping company Shoei Kisen Kaisha said in a statement the car carrier Fremantle Highway, which was transporting 2,857 cars, was traveling to its final destination in Singapore when the fire broke out.
Rescue personnel received a call early on Wednesday reporting a fire about 14.5 nautical miles off the northern Dutch island of Ameland.
All 23 crew members were evacuated from the ship, but one person died and several were injured, the coastguard said. It was not clear how the crew member died. The fire could still burn for days, a coastguard official who spoke on condition of anonymity told AFP.
The Fremantle Highway is currently close to Ameland, one in an archipelago of ecologically sensitive islands situated in the Waddensee area just north of the Dutch mainland.
The Waddensee area spanning the Netherlands, Denmark and Germany has been declared a UNESCO World Heritage Site and has a rich diversity of more than 10,000 aquatic and terrestrial species.
This included more than 140 species of fish of which some 20 spend their entire life in the tidal areas along the islands' famous mud flats.
The area also has a large seal and porpoise population. Should the Panama-registered Fremantle Highway sink, it would be a disaster of the highest order, Dutch daily tabloid De Telegraaf reported.
Salvage vessels were on the scene trying to put out the blaze and prevent the ship from sinking. A tug vessel has managed to attach a cable to the stricken ship to prevent it from drifting and blocking an important sailing route into Germany.
he Fremantle Highway was sailing between Bremerhaven in Germany and Port Said in Egypt when the blaze broke out, according to the marinetraffic.com website.
Last year the Felicity Ace sank of the coast of the Azores in the Atlantic Ocean with some 4,000 vehicles from German car maker Volkswagen on board.
ABC Flash Point News 2023.