Canada's capital was bracing for a surge of demonstrators to join a week-long protest against public health measures as PM Justin Trudeau has blockaded much of the downtown core, unnerved residents and been described by officials as an occupation and a siege.
Local police said Friday that they expected as many as 400 additional trucks and up to 2,000 people to join the self-described "Freedom Convoy" over the weekend. They said that some 1,000 people could also be planning a counter-protest?
Ottawa Police Chief Peter Sloly, under fire for what critics have called a lenient response to the blockades, said police would be hardening the perimeter around the protests and deploying 150 more officers to deliver a clear message that the opposition against the government must end. Roads, highway ramps and bridges could also be closed.
The demonstrators remain highly organized, well-funded, extremely committed to resisting all attempts to end the demonstrations safely.
Sloly, said he had received death threats. This remains, as it was from the beginning, an increasingly volatile and increasingly dangerous demonstration against the Covid-19 regime.
The protests were initially started in response to USA and Canadian rules requiring cross-border truckers to be fully vaccinated to enter their respective countries.
But they have ballooned into a movement against all public health measures, which are mostly imposed by the provinces, and Trudeau, who was surprisingly reelected in 2021.
In a memorandum of understanding, Canada Unity, one of the main groups behind the convoy, calls for the governor general, Queen Elizabeth II's representative in Canada.
Canada Unity also asked the Senate to override the public health measures or to topple the government that is operating far outside their constitutional powers.
The convoy has spurred solidarity demonstrations, including a blockade near a U.S.-Canada border crossing in Alberta. Protests in cities including Quebec City and Toronto are planned this weekend.
The demonstrations – which have drawn praise from Fox News personalities, Donald Trump and Tesla founder Elon Musk – have left residents on edge.
Big rigs and other vehicles – emblazoned with signs blasting Trudeau in obscene language and reading "Mandate Freedom" – have blocked main arteries and intersections in the downtown core, causing traffic chaos.
The deafening sound of horns has filled the air for much of the day and night. Police say residents have been the targets of racist vitriol.
The organizers have vowed to remain until their demands are met. They've built a wooden structure and stockpiled diesel fuel and propane near Parliament, raising security concerns and prompting police criticism.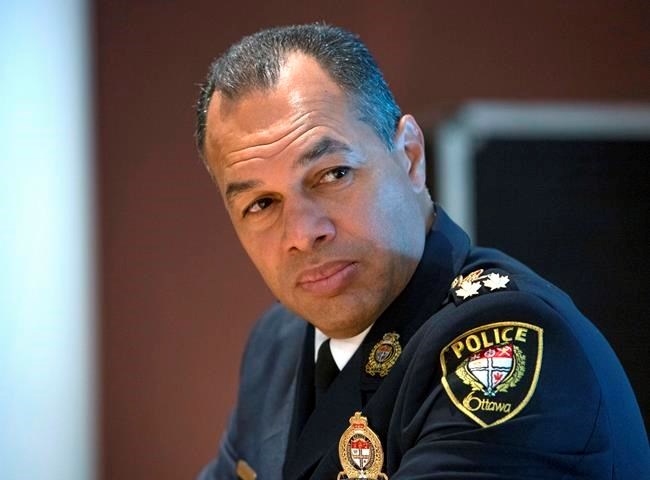 Sloly has defended the police response, citing worries that the protesters will use vehicles against them and that they might be armed. I have deep personal empathy for those that are suffering. We are doing everything we can to make sure we keep this city safe.
He said this week that there might not be a policing solution to the blockades and that officers were considering military aid to civil power to end them. Trudeau has said that deploying the military is not in the cards right now.
Police have charged at least four people in connection with the demonstrations and issued some 30 traffic tickets. They've opened a hate crimes tip line for active investigations, including into the desecration of the National War Memorial, which is now fenced off.
However even if Trudeau dropped the vaccination requirement for cross-border truckers, non vaccinated Canadian truckers would still be unable to cross the border because of the USA rulings.
Several lawmakers have cheered the convoy on, even happily posing for photos with the big-rigs that have paralyzed the city in the background.
They've drawn charges of hypocrisy because many of them called for an aggressive police response when an Indigenous-led movement blockaded railroads to protest a pipeline in 2020.
The Washington Post / ABC Flash Point news 2022.