China has just used artificial intelligence (AI) to simulate its island-building activities for the $5 billion maritime passage way through the South China Sea, a move that if and when actualized could help to bolster its maritime claims in the hotly contested maritime region.
A team from the Transportation Science and Engineering College, Civil Aviation University of China in Tianjin ran an AI simulation of the construction and operation of a logistics network in the South China Sea, which they say will boost China's economic activity and claims in the disputed sea.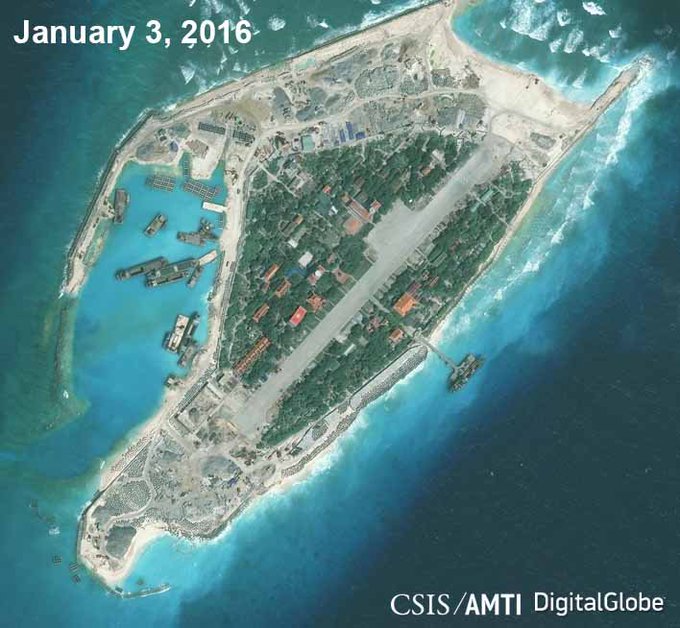 The simulation, which SCMP reports was published last month in the Chinese peer-reviewed Chinese journal Operations Research and Management Science, notes that this logistics network can cover 17 to 80 features in the Spratly and Paracel Islands.
The researchers also noted that it has become a top priority to build a logistics network that can operate effectively and coordinate various modes of transport.
But also the construction of these transport facilities has laid very favorable basic conditions for the construction of a logistics network in the South China Sea.
SCMP notes that the most extensive scenario involving 80 features would cost 20 billion yuan (US$2.9 billion) to build new harbors, warehouses and cargo ships and maintain regular flights between China and 20 island airports.
The report also mentioned that this logistics network would enable China to send personnel and equipment to any feature within six hours after a typhoon or other contingency.
However, SCMP notes some challenges emerged in the simulation, including defining variables such as site selection for the central transport hub, wharf construction size and time-frame, types of transport ships and aircraft, plotting transport routes and accounting for differences in cargo capacity.
Moreover, SCMP notes that the simulation only accounted for fixed-wing aircraft while an AI that can account for helicopters is still under development.
AI is set to play an outsized strategic role in China's grand strategy, with corresponding applications in its gray zone strategy, which involves coercive actions short of full military conflict.
A May 2021 report by the National Bureau of Asian Research notes that AI, alongside other technologies such as algorithms, Big Data analytics and quantum computing, is an enabler for China's military concepts such as algorithm confrontation, which holds that the side with the data advantage will prevail in a conflict.
In addition, the report notes that China's future gray zone strategies will likely feature more emerging technologies such as AI and associated data-processing capabilities to enhance maritime intelligence, data collection and surveillance.
In a December 2018 Global Risk Insights article, Jonathan Hall mentions that AI may be China's edge over other claimant states and the USA in the South China Sea.
Hall says that China has developed a prototype AI-enabled diplomatic system, which is now used to lighten the load for policymakers managing its Belt and Road Initiative (BRI), with AI being used to process large amounts of data and provide policy recommendations.
Such technology, Hall notes, gives China's policymakers a huge advantage in the efficiency and accuracy of their judgments and can be applied to other spheres such as the South China Sea disputes.
Indeed, China may already be exploiting the advantages afforded by AI in its gray zone strategy for the South China Sea disputes, which blurs the distinction between civilian and military applications of force to achieve political and diplomatic objectives.
Benjamin Noon and Christopher Bassler note in a January 2022 article for the Jewish Policy Center that with AI taking a more significant role in decision-making.
China's strategists think that future warfare will turn into an arms race over who can produce computers with the quickest computing capacity, with wartime commanders having supercomputers surpassing the decision-making capabilities of their operators.
Noon and Bassler suggest that China's strategists see future warfare akin to a video game.
The operational commander's state of mind is the decisive point of conflict, emphasizing psychological warfare. Thus, they note, China's goal is to outsmart the enemy and reduce its will to resist.
Along those lines, Gregory Poling notes in a January 2020 article for War on the Rocks that China's primary strategy in the South China Sea is not to fight a war with the USA.
But instead to use gray zone paramilitary pressure to force Southeast Asian states into abandoning their maritime claims using its island bases, hundreds of militia ships and large fleet of Coast Guard ships.
He also notes the dual-use nature of China's occupied features in the region, as they support peacetime coercion and can shift the balance of power in a future conflict.
Poling notes that China's militia and Coast Guard fleet frequently harass other claimant states' civilian and law enforcement activities. However, China's naval and air-power dissuades the latter from taking more forceful actions.
He also emphasizes that China aims to impress on Southeast Asian states that a security relationship with the US cannot safeguard their interests, undercutting the rationale of governments such as the Philippines and Singapore to support a larger US military presence.
However, China's use of AI in gray zone strategies may be a double-edged sword.
SCMP noted in an October 2019 article that while AI gives major military powers significant advantages over smaller states, its use erodes trust between countries, which makes restraint in AI applications necessary.
The article also warns against the possibility of an AI arms race and the possible applications of AI in the decision-making process in the launching of weapons of mass destruction.
Asia Times / ABC Flash-Point News 2023.